As the saying goes, there's no time like the present, but in a present tainted by a series of enlightening events—you only have to hear the names Trayvon Martin and Michael Brown to know what I'm talking about—the time has come for y
erica to reflect on her inglorious imperfections. Brandeis University keyed into that very necessary conversation on March 4 with Jaded's first ever OpenMic Night at Chum's. Jaded, Brandeis' newest literary journal, presented: America! (cosponsored by Artemis and FMLA) which featured performances by SEAC, BIEI, FMLA and more.
The night was characterized by an epic flow of poetry. The words came pouring out one after the other, an indispensable release for all the performers involved. The prose shed light on real issues that can be difficult, if not impossible to talk about in our everyday lives. Poetry, after all, doesn't force its audience members to listen and feel; it allows them to decide for themselves how they receive the heartfelt words. As I could tell from the audience at Chum's, keeping in mind the onslaught of snapping fingers, that message was more than felt; it reverberated and shone through the audience.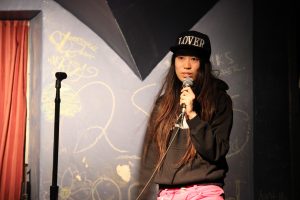 Many of the poems dealt with the larger, more pointed question, "What does it mean to be an American? What does it mean to live in America?" Numerous voices expounded on their experiences in America as a minority, and the repercussions of straddling two worlds—one in which they cling to their roots, the other in which they are truly assimilated and "Americanized." Although it may be assumed that America is a melting pot, or better yet, a tossed salad, both analogies don't describe the struggle that people face in America. The pot is perpetually trying to boil, to liquefy its different parts into a thick sludge. The salad ingredients are being picked out so the heterogeneity is reduced to homogeneity.
Amy Trankiem '17 performed a very poignant poem in which she expressed her difficulty in dealing with stereotypes as a Vietnamese-American. Because of her appearance, those around her regarded her as a delicate china doll. The preconceptions people had about her as a woman and as an Asian person were deprecating and insufferable. Her piece of poetry, which is a very raw reaction to those people's harsh presumptions, is a recognition of suppressed feelings long felt but never expressed. In response to her involvement in "Jaded presents: America!" Amy Trankiem said that "Jaded is a great way to have an inside look on the minority experience. Asian women are extremely fetishized in Western society, and Jaded is an outlet where I am able to express my refusal to be merely a sex object." Her strength is incredibly evident as she rejects the stereotypes and defines herself in her own way. Because in the end, how we understand ourselves is more important than how others think of us.
Another very powerful performer, Rohan Narayanan '15, didn't hold anything back, not one ounce of emotion, not one deeply resonating thought. His performance, which included four poems, incorporated what can only be described as chilling prose—it initiated a kind of goosebump reaction that began in the legs and spread throughout the whole body. His rendition of his poetry, which was full of emotion, practically seething with frustration, laid bare the feeling of one who spoke for a people—for Americans overall. His poems focused on the unsettling realities that is life in America: discrimination, rampant racism and inner hopelessness that nothing, absolutely nothing, can be done about it. In Narayanan's opinion, all of these emotions can be channeled and used to a positive end. "I was honored and excited to be Jaded's first performer at their first open mic. A lot of my poetry reflects Jaded's ideals and ideas regarding identity and experience. My parents were immigrants from India and finding myself growing up in a predominantly Christian sphere in Connecticut was challenging and frustrating, something I did not fully grasp until I left it. Jaded is an extremely necessary outlet at Brandeis and I'm really thrilled to have been there at the beginning. I can't wait to watch it grow and watch Brandeis artists, thinkers and students utilize it as a mouthpiece to share their stories."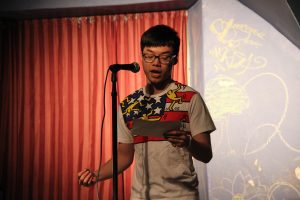 America has problems. It's more than an imperfect place. That red, white and blue flag has been stretched, torn, set aflame, and all the while it still remains in one piece. America, however, isn't a broken place. As a people, Americans can continue a more than necessary conversation about discrimination and racism. We are a people that are made of multitudes of nationalities, ethnicities and religions, and together we can bridge the divide.