An array of cultural clubs, students and community members gathered on the patio of the Intercultural Center (ICC) to enjoy delicious delicacies at the Pan Asian Night on the evening of Monday, Sept. 18. Hosted by the Brandeis Asian American Students Association (BAASA), the event was advertised as an opportunity to chow down on free food, but it also introduced students to the numerous cultural clubs that Brandeis' ICC has to offer, as well as new foods originating in different countries around the world.  
Students could interact with members from the Korean Student Association (KSA), South Asian Students Association (SASA), Southeast Asia Club (SEAC), Taiwanese Student Association (TSA), Japanese Student Association (JSA), Club Cantonese at Brandeis (C2B), Vietnamese Student Association (VSA), Brandeis Chinese Cultural Connection (BC3) and Brandeis African Student Organization (BASO). Each club had table space covered with delectable treats to share with all.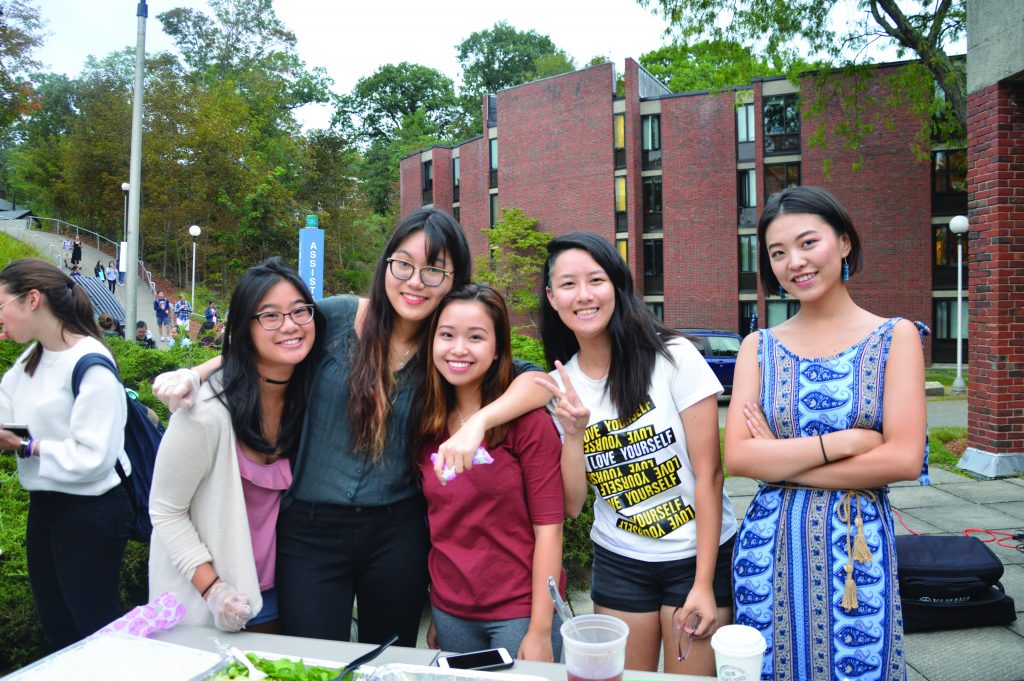 KSA served crispy and mildly glazed fried chicken, SASA samosas, SEAC pork and chicken vermicelli noodles, TSA spring onion pancakes, JSA matcha ice cream, C2B beef noodle chow fun and stir-fried veggies, VSA grilled beef and vermicelli noodles, BC3 steamed buns (Bao Zi), BASO beef and vegetarian samosas, plantains and chapatis and last but not least, BAASA with Szechuan broccoli and crispy chicken.
Students started lining up before 5:45 p.m., when the event was set to start at 6 p.m. One attendee even brought empty Tupperware containers to carry his Pan Asian Night finds. The event was supposed to end at 8 p.m., but some clubs ran out of food within the very first hour.
During the event, JSA members walked down their line with a homemade frame that mimicked a Pinterest webpage for students to pose for a photo within the Pinterest frame. It included JSA's profile sharing an ice recipe and a button that said "Make It!" It was a sweet touch to accompany an even sweeter scoop of creamy, matcha ice cream. "We chose to serve green tea ice cream because it incorporates one of Japan's famous tastes, green tea/matcha, with a popular dessert—ice cream!" said JSA Secretary Tamami Horioka '19.
While I thoroughly enjoyed JSA's ice cream, BAASA's broccoli and TSA's spring onion pancakes, I most enjoyed the event's inclusive and lighthearted vibe. Pan Asian Night welcomed anyone and everyone, whether people came for the food, wanted to meet the clubs or simply wanted to hang out with friends and new faces.
Lively music played through speakers and some danced along while waiting in line or serving food.
"Since Asian American is such a broad term that spans a diverse range of people/cultures, we tried our best to serve food that has its roots in the various Asian cultures while still being a familiar dish to Americans," explained BAASA President Wendy Yang '19. For that reason, BAASA settled on serving Szechuan broccoli and crispy chicken, both of which trace back to Chinese culture.
Yang was born in China, but immigrated to America when she was four years old. "I grew up in a household where we always ate dinner together, so I've always associated sharing food with others as a bonding activity. We wanted to create a fun and familial atmosphere, where people are encouraged to try new things they've never tried before," said Yang.
BASO served spicy beef and vegetarian samosas, plantains and chapatis, which are more commonly known as paratha in India, according to BASO President Carmela Belizaire '20, who comes from Dar-es-Salaam, Tanzania. These foods are enjoyed by those in Swahili culture, especially in her home country. "The way to almost everyone's heart is food. And this isn't any different for African culture, whether within the continent or the diaspora. The act of coming together and eating means that we are creating room for building and sustaining relationships with the people we eat with," Belizaire said. "In a campus as diverse as Brandeis, there is a lot to learn, as far as cultures are concerned. And the Pan Asian Night gave us the chance to not only meet up with individuals, but also to get a sense of what 'home' is for them," she added.
For C2B, Pan Asian Night means presenting event goers with popular and comforting foods in Cantonese culture. The club served beef noodles and with stir-fried vegetables.
"We try to provide as much food as possible during our events for everyone, hoping to create a family-like atmosphere," said C2B Vice President Amanda Huang '19, who grew up in Quincy, Massachusetts and was influenced by the numerous Cantonese and Mandarin speakers. C2B is still a relatively new club, so it was excited to make its presence known on campus and spread Cantonese culture during Pan Asian Night.
SEAC served pork and chicken vermicelli, referred to as "bun" in Vietnamese, due to its popularity in much of Southeast Asia. "Serving bun specifically demonstrated one country's variation on a very popular noodle and shows how the same noodles can take on unique styles," said SEAC event co-coordinator Jennifer Taufan '20. Taufan is from New York, but her parents immigrated from Indonesia. "Despite social and political differences in the world, almost everyone loves food," she said.
Taufan believes the Pan Asian night "provided the opportunity to show not only the cultural diversity throughout Asia by offering different types of food from every club, but also unity in coming together and enjoying a meal with old friends and new friends."