"Sex with me is like hiking…" Gabe Adler-Cohen '18 joked, standing with one foot on the chair placed center stage. "When you're done you have to check yourself for bugs." The crowd, packed into Chum's on Friday, Nov 13, burst into laughter and applause as Crowd Control, one of Brandeis' improv comedy troupes, kicked off its first show of the semester.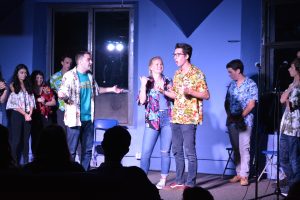 The group's semester-opening performance was energetic and fast-paced, a welcome respite from midterms. Moving as a cohesive team, the performers of Crowd Control built scenes from the ground up, sometimes making jokes inspired by audience suggestions and perfectly delivering each joke. The two warm-up games engaged performers with the audience, using a noun or, in the case of the first game, a verb, prompting the comedians to deliver their take.
Creative directors Roy Shakerchi '18 and Adler-Cohen led the show, deciding when to end one scene and making sure the sketch's ended at the perfect moment. Their direction kept the show moving smoothly from one joke to the next, allowing just enough time for the joke to land but never giving the audience a break from their laughter.
The main portion of the show was devoted to long-form improv, including a stand-out performance by Sussman as "Dr. Beet," a celebrity pediatrician whose wordplay-heavy treatments require parents to beat their children with beets. The child in question, played by Adler-Cohen, remained uncured by his unusual prescription, but the joke was well-received. His parents, Maryam Chisti '20 and Matthew Patton '20, played their respective roles well, complimenting Sussman and Adler-Cohen's performances with their own humor.
Each member of Crowd Control added their own unique brand of comedy to form the team, playing off each other's jokes. The performance exemplified improv's central rule of "yes, and," as performers took the wacky scenes that came before them and added another layer of complexity.
Crowd Control is relatively young; out of 10 performers, four are new to the group. To prepare their team for the performance, Shakerchi and Adler-Cohen decided to delay their first show until this past Friday. The later date gave the team time to "really hone in on the basics," Shakerchi said in an interview with The Brandeis Hoot.
"We strive to start scenes with what we call 'big choices', then we ground them with relationships and motivations," Shakerchi said. After setting out the scene's foundation, for example, a crazed pediatrician with unconventional treatment methods, the performers built complex relationships and tied in previous themes from the show. The jokes have to be grounded and connected to each other, however subtly, or else an improv show can turn into a long series of one-liners, said Shakerchi. The performers of Crowd Control are constantly practicing to build their comedy skills, and their efforts clearly paid off.