Former mayor of D.C. Anthony Williams spoke about his career in public policy and his work during Washington's fiscal crisis at the Heller School on Oct. 16. The talk was part of the Conversations with the Dean series, which brings people who have impacted public policy and worked for social justice in conversation with Heller School Dean David Weil.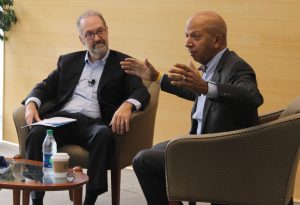 The crowd at Williams' conversation with Weil filled the plastic chairs in the atrium of the Heller School and extended onto the staircases and balconies. Students and professors alike gathered to hear the former mayor's perspective on public service and social policy.
During Williams' two terms as mayor, D.C. was recovering from a fiscal crisis, one which Williams himself was instrumental in solving. In 1995, then-Mayor Marion Barry hired Williams to be the city's Chief Financial Officer (CFO).Williams faced many challenges in his new position; D.C.'s budget had reached record low of $355 million dollars.
Though his friends and the facts of D.C.'s fiscal situation initially discouraged Williams from applying for the CFO position, he landed an interview with Barry and turned the city's deficit around. The budget crisis seemed insurmountable, but, Williams explained, "In order to do a good job, you have to get the job."
In 1996, the city's audit came back to Williams, who had only recently begun work as CFO, and was, as he expected, full of problems. Instead of resigning himself to his new reality, Williams announced that he would, in the space of one year, work on the budget and produce a "clean" audit for the 1997 fiscal year, he said. Williams and his whole staff agreed to step down from their jobs if they failed. The move proved so successful that Williams was vaulted to fame and onto the campaign trail.
Williams told the audience that his campaign for mayor began without him. A "Draft Anthony Williams" movement convinced him to run for mayor.
Residents of D.C. had begun moving out of the city and taking money and economic opportunity with them. Williams crafted a plan to combat that, taking control of D.C.'s economic situation back from the federal government and beginning a series of efforts that would revitalize downtown D.C. and the economy.
His plan to revitalize the city was both cultural and economic. The decision to bring the Montreal Expos in as the new Washington National's baseball team, and to build a new stadium in the Anacostia watershed area, not only created jobs but a sense of unity in a city with history of tense race relations and class divisions. The deal with the Montreal Expos was finalized when they began playing in 2005.
To get support for his bold plans, Williams had to earn the trust of Washingtonians. He and his staff answered phones, both literally and symbolically, showing constituents "somebody's home," as he said. The public would have to know the man they elected to office was working for and with them, and he did this by making ambitious promises and staking his reputation on them.
It was Williams' bold, ambitious plans for Washington that earned him success and an influential legacy in the public policy world. The next policymaker to be featured in Heller's "Conversations with the Dean" series is Chris Lu, deputy Secretary of Labor under President Obama, who will speak about his career Nov. 29.