On Jan. 15, Brandeis University hosted its 8th Annual Martin Luther King Interfaith Service Day, an event to reflect and honor King with a meal packing project and an "Educational Justice Fair." The more than 120 attendees took turns packing meals and attending workshops on social justice topics hosted by different community groups.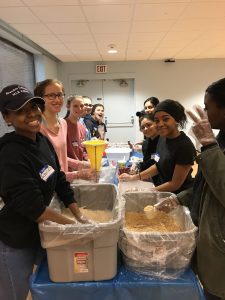 "Giving back through service projects are very important to me, especially [while] preserving MLK's memory. It's important that we are continuing to fight for peace, social justice, racial equality especially at a time of turbulent political atmosphere," said Esther Brandon, who works in Library and Technology Services.
Brandon attended the very first MLK Interfaith Service event as a student and has been on the organizing committee for the last two years as a staff member.
At Brandeis, the Interfaith Chaplaincy and the Waltham Group co-sponsored the service day along with the group Cooperative Metropolitan Ministries (CMM) and the Mass Service Alliance.
"I've definitely seen our participation grow. We developed ties with community groups, church groups, high school groups, and campus groups including the MLK fellows and the Myra Kraft TYP students. The people who come make it what it is, so it's great to see different parts of the community coming together today," she said.
One of two sessions at the service day was devoted to packing meals for food pantries, including the Framingham Food Pantry, Waltham Community Day Center, First Church in Cambridge, Common Cathedral and Church on the Hill.
Walker Bristle, who works for an organization that fights child hunger, led the meal-packing project. According to Bristle, approximately one in seven children do not know where the next meal is coming from.
"We try to do a little thing to help them know where one of those meals are coming from. I've eaten these meals. They're good. They're not perfect. They are meant to help people get back on their feet…people with families, people looking for work. Some are going to be packing oatmeal and others are going to be packing rice and beans today," said Bristle.
The Educational Justice Fair included sessions with the Council on American-Islamic Relations, the Interfaith Youth Initiative, the Brandeis MLK fellow group, faculty members and the Brandeis Chapter of Habitat for Humanity.