The Rose Art Museum opened to the public on Friday, June 25 with two exhibitions, the first major shows since February 2020. The first exhibition is "re: collections, Six Decades at the Rose Art Museum," a museum-wide exhibition displaying selections from the museum's permanent collection. The second exhibition is "Frida Kahlo: POSE," a selection of paintings, works on paper, film footage and photography documenting the life of Mexican artist Frida Kahlo. "re: collections" and "POSE" are not only beautiful, compelling exhibitions, but are powerful showcases of the ways in which curatorial decision-making can be used to put works of art in conversation with each other, establishing new and innovative readings of these works.
Spanning the entire museum, "re: collections" is subdivided into six major sections entitled "re: collections," "re: presentations," "re: tellings," "re: citations," "re:constructions" and "re: visions," which, according to the Rose Art Museum website, "highlight[s] the radical roots from which the museum grew, while showcasing the potential for future transformations" and "challenges the conventions of art historical narrative by uncovering new connections, charting alternative genealogies, and inviting innovative interpretations of modern and contemporary art."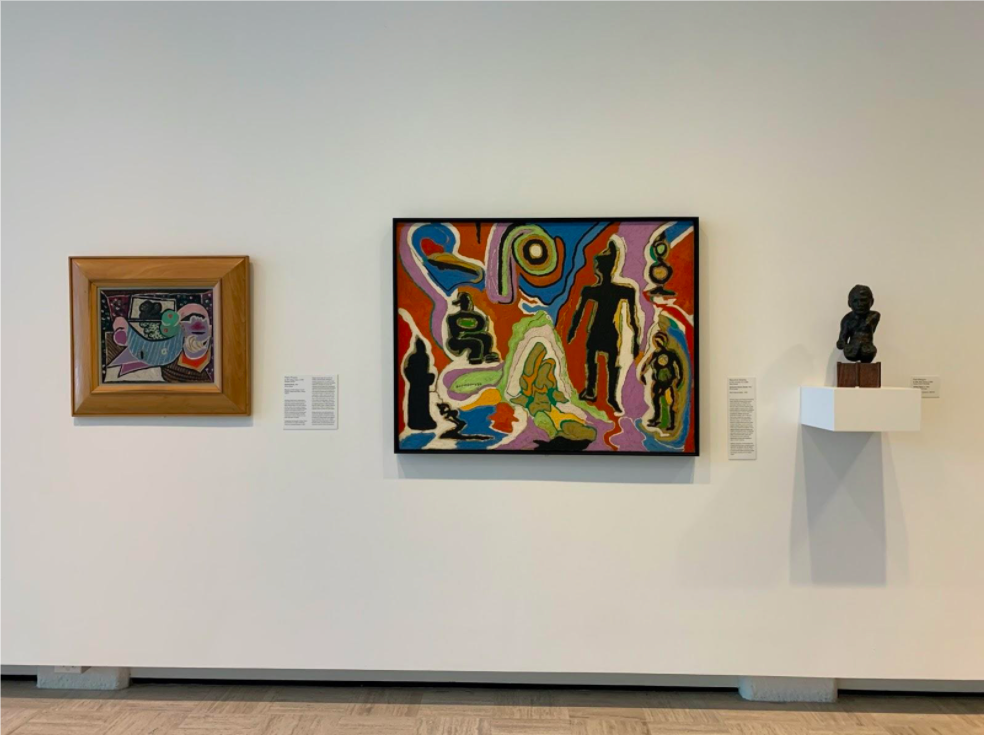 Opening the exhibition is "Reclining Nude" (1934) by Pablo Picasso and "Abstraction (Greene Street)" (1950) by Beauford Delaney. Together, these paintings establish a dialogue concerning objectification under the male gaze. "Reclining Nude" is a painting of an abstracted female reclining nude with strongly emphasized breasts and butt rendered in thickly applied paint in rich and vibrant colors. Despite working with an abstracted form, the prominent breasts and butt indicate that Picasso is utilizing the sexualized male gaze to depict his teenage wife (identified as such by the accompanying wall label), objectifying her for his pleasure. This reading of "Reclining Nude" is encouraged by its placement next to "Abstraction (Greene Street)," which depicts four silhouetted figures in an abstracted landscape, rendered with thickly applied paint in vibrant colors. The same techniques found in "Reclining Nude" are present in "Abstraction (Greene Street)," but are not used to objectify or sexualize the figures that populate the painting. Furthermore, Delaney was Black, gay and lived on Greene Street in the avant-garde Greenwich Village in New York City (appearing in the title of this painting)—all of which suggest that Delaney identified with the vibrant, pulsating image he has painted. In sum, the juxtaposition of these two paintings invites the visitor to question the female nude in the hands of a male artist, even when depicted in a nontraditional manner.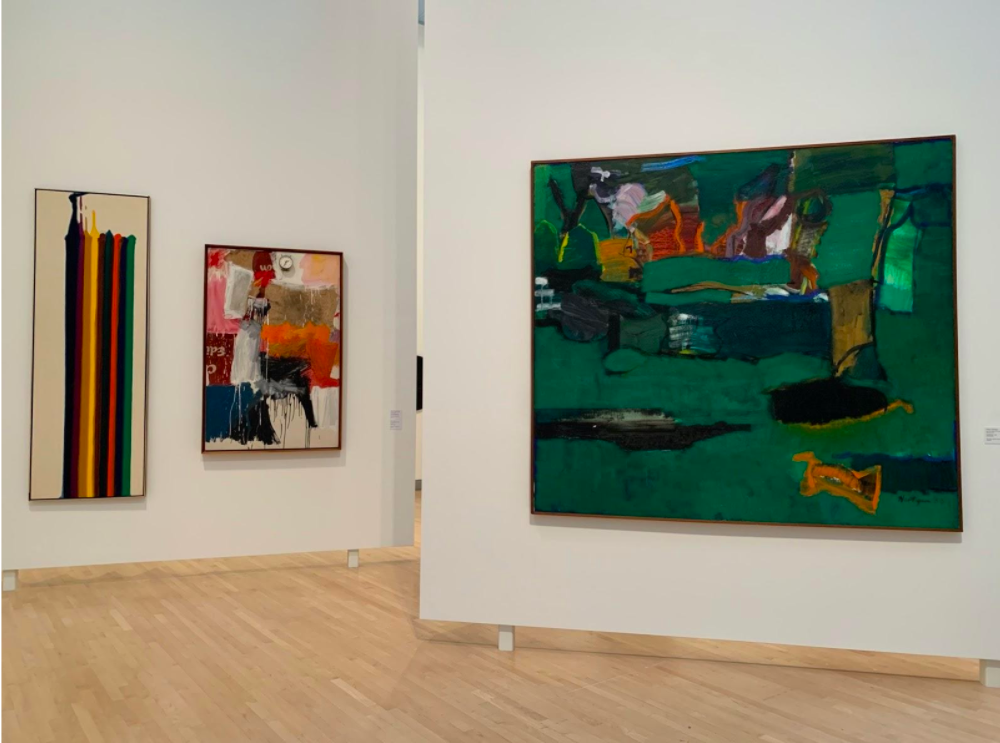 Moving downstairs to the Lois Foster wing, a screen of canvas strips caked in paint of a variety of colors greets the visitor: Mark Bradford's monumental "Waterfall" (2015). Behind this screen of canvas, the visitor comes to two walls, one set back in space from the other and each adorned by works that enter into a conversation that questions ideas of finished and recognizable imagery when simultaneously viewed. Grace Hartigan's "Frederiksted" (1958), rendered with loose brushwork and unresolved imagery, invokes a scene at the park with trees and a small body of water. Standing before the painting is breathtaking, with the image oscillating between the recognizable imagery of a park and simply marks on canvas. Situated to the left is Robert Rauschenberg's "Second Time Painting" (1961), a smaller painting composed of rectangular splotches of paint, aggressively applied, with an upside down alarm clock embedded within the paint at the top of the canvas. Part of a series, it was created as a performance piece and painted in front of an audience until the embedded alarm clock chimed, ending the painting session. When viewed together, "Frederiksted" and "Second Time Painting" are unified by rough, unblended brushwork, as well as by bright oranges and reds that draw the eye back and forth between the canvases. Together, these paintings encourage the viewer to think about what it means for a painting to be done: is it the artist's decision, independent of a legible image? Is it a matter of time? Or can it never be truly determined?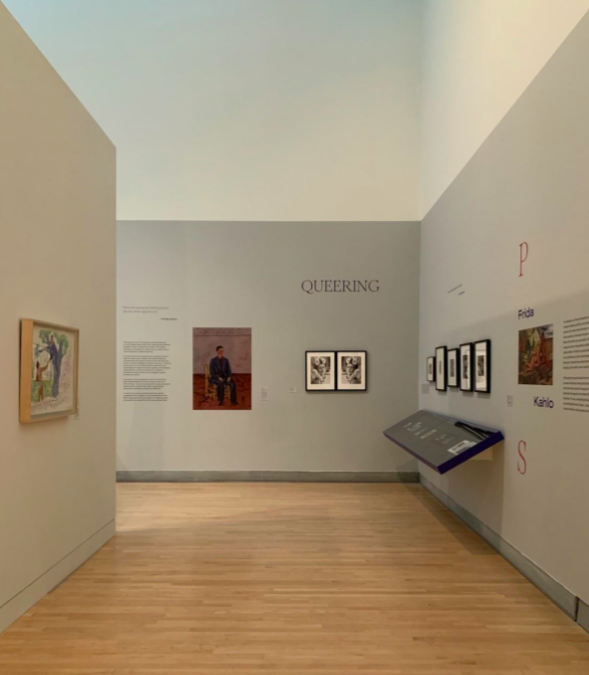 Also in the Foster Wing is "Frida Kahlo: POSE," which "emphasize[s] the profound and creative interplay between photography, fashion, art, and the construction of identity within Kahlo's multidimensional creative process," according to the wall text at the beginning of the exhibition, through five overlapping sections entitled "Posing," "Composing," "Exposing," "Queering" and "Self Fashioning." Although largely separate from "re: collections," the moment of overlap between the two must be highlighted. In the back corner of the Foster Wing, John Bankston's "No. 20" (2005) and Frida Kahlo's "Two Nudes in a Forest" (1939) face each other, each queering traditional imagery of the Garden of Eden. "No. 20" is rendered playfully like a coloring book, depicting two Black men reaching towards each other: one is perched in an apple tree and clothed in a full suit as the snake, while the other is standing, adorned in leaves and reminiscent of Eve. Kahlo's "Two Nudes in a Forest" replaces Adam and Eve in paradise with two nude women set against a lush forest, one lounging in the lap of the other in a tender moment of intimacy. It is also worth noting that both of these paintings depict people of color, suggesting that both Bankston and Kahlo have reclaimed a white, heterosexual, moralizing story about the folly of women to celebrate each artist's inherent queerness. This reclamation is further emphasized by the wall text QUEERING, placed on a far wall but visible between the two works.
These are just a few genius moments in "re: collections" and "POSE," and there are many more to be explored. I encourage everyone, not just art history snobs like myself, to take the time to visit these exhibitions. Although the Rose is always full of smart curatorial decisions, these new collections stand out as especially thought-provoking and keep me coming back again and again. The Rose is open Wednesday through Sunday from 11 a.m. to 5 p.m. All visitors need to reserve a ticket prior to their visit to maintain low capacity levels throughout the museum; admission is free.
Find out more about "re: collections, Six Decades at the Rose Art Museum" and "Frida Kahlo: POSE" here.