Staff, faculty and students were evacuated from the main Brandeis campus after administrators received a bomb threat in an email early Wednesday morning. At 4:50 p.m., close to seven hours after the emergency evacuation went into effect, Brandeis re-opened for residents.
On Wednesday, campus residents first gathered on the playing fields while all non-essential staff and faculty left campus for the day. The emergency closing email was followed by an increased police presence around campus, and over the time span of almost seven hours, Brandeis and Waltham police conducted a top down search of the campus. The investigation into the threat is ongoing, and "police will continue to be visible on campus," said President Ron Liebowitz in a Wednesday evening message to the community.
Brandeis police facilitated the campus evacuation as cars poured out of the main entrance. The university maintains an Incident Command or emergency response team made up of individuals from multiple departments around campus. These individuals are on call whenever an incident such as a bomb threat arises.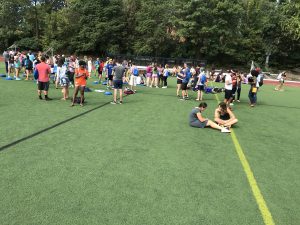 Between 9:52 a.m. and approximately 11 a.m., members of the Department of Community Living went door to door in every residence hall on campus. They escorted residents out of their buildings and directed them to the fields. Police, however, did not reach every occupant during the evacuation and some community members with disabilities did not receive sufficient assistance evacuating, according to a Thursday afternoon email from Liebowitz. His message spoke to multiple concerns raised about the effectiveness of Brandeis' emergency alert system. Some community members did not receive the alerts or did not receive an email and a phone call, despite having requested to receive alerts both ways. Others commented on the university's Facebook posts that the text alert said nothing more than "bomb threat" and did not mention Brandeis anywhere.
Brandeis spokeswoman Judy Glasser said the university had "identified areas for improvement [Wednesday]," but declined to provide specifics. Liebowitz also met with the school's Incident Command Team on Wednesday and Thursday.
As she introduced herself to members of the Brandeis community on the playing field Wednesday, Provost Lisa Lynch told students that administrators were being "overly cautious." Around 12 p.m., students moved to the Gosman Gymnasium, after public safety personnel had swept that building and confirmed it was safe. Everyone was provided with food and water on the field and inside the gym.
"I was a little freaked out, I called my parents but…I think Brandeis did a really good job with moving everyone and getting everyone food and water," said Demi Ingraham '20. Throughout the day, students checked in with family and friends to say they were safe.
Brandeis administrators made themselves available for questions but would not comment on the status of the bomb investigation. Students were not forced to remain in Gosman but told not to return to campus.
Around 1 p.m., Brandeis announced the campus would remain closed for the day as public safety personnel had not concluded their search of the campus. At this time, Glasser confirmed to The Hoot that administrators was hopeful students would be able to return to their dorms that day. Brandeis would have announced a plan to house students elsewhere had it become necessary, said Glasser, though she was not able to speak publicly about the plan at that time.
The first of four move-in dates for the Fall semester is Aug. 25, but approximately 250 students are currently being housed on campus, including Orientation Leaders, Community Advisors, Roosevelt Fellows and international students participating in an English intensive program before classes begin. The first-year class moves in this Sunday and all returning students will arrive by Tuesday, Aug. 29.
During the evacuation, Many parents expressed worry and prayers for everyone's safety in comments on a Brandeis Facebook post. However, others expressed concern that the university's information was too vague and that relocating all the students to the field made them a target.
Throughout Wednesday, some on Twitter raised the possibility that the threat could be connected to Brandeis' history as a university founded by the Jewish community, but the university confirmed on Thursday that no "reason or motivation" was given for the threat.
There have been more than 100 threats made against Jewish centers this year as well as instances of vandalism. In March, an Israeli teen was arrested in connection to bomb threats made against Jewish Community Centers (JCC) and schools around the country. The Holocaust memorial in Boston has been vandalized twice this summer.
Similar bomb threats were sent to the Waltham Public Library one day earlier, but police have not linked the two instances.
In the Wednesday evening email to the community, Liebowitz listed the safety protocols in place on campus—such as police officers on duty 24 hours a day, more than 100 closed circuit cameras and 70 of the "blue lights" which provide connection to Brandeis police—as well as 12 campus resources including the Brandeis Counseling Center, ULifeline and the Chaplaincy.
He also thanked all those who assisted during the evacuation, including police, Facilities Services and food service workers.