At the start of a new semester at Brandeis, you can expect to see a flush of fresh faces on campus, returning students catching up with one another and, at the Rose Art Museum, an exciting new display of visual arts to explore.
The Rose's Fall 2017 exhibitions are part of the most anticipated changes of the upcoming school year as the museum will be updating several of its wings with works from outside artists and pieces from its permanent collection. On Sept. 8, patrons of the museum will be able to enjoy video art from John Akomfrah and paintings by Kevork Mourad, as well as treasures from the Rose's own collection.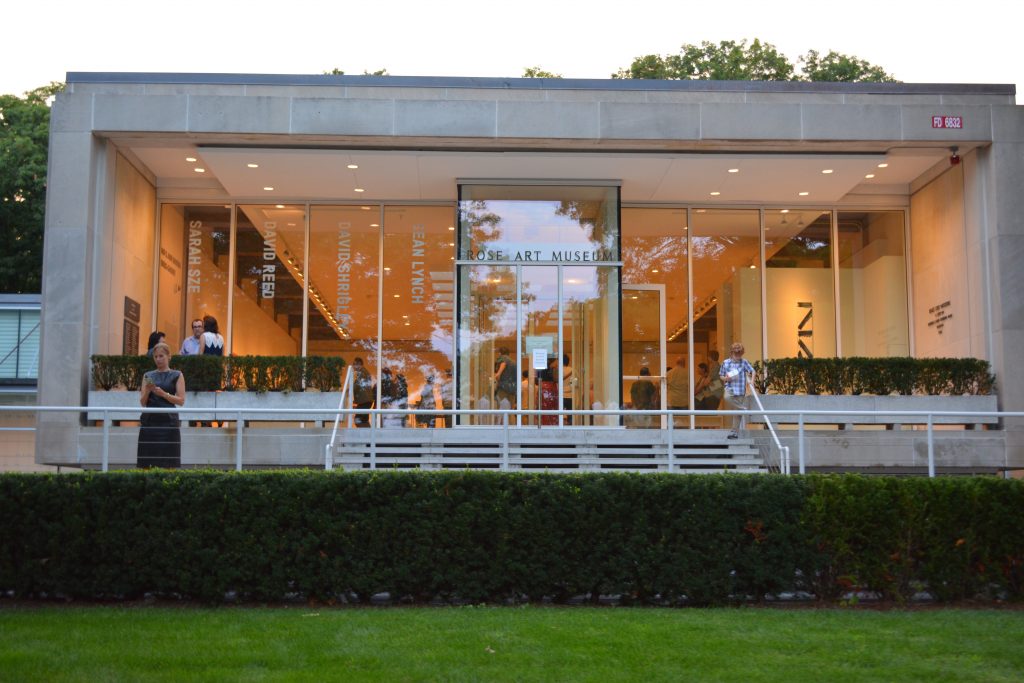 In addition to the September unveiling, the museum will be participating in a sort of dual-launch with the second half of the Fall 2017 exhibitions opening on Oct. 15. These exhibitions will feature the works of Joe Bradley in the Lois Foster Gallery and a site-specific project by Tony Lewis in the same stairwell where Sarah Sze's "Blue Wall Moulting" resided the year prior.
Much like the exhibitions at the Rose Art Museum, the faces of the Rose are also undergoing a change. In May, the museum announced that it would be welcoming Luis A. Croquer as the new Henry and Lois Foster Director to replace former director Christopher Bedford. Croquer has previously held high-ranking positions at the Henry Art Gallery at the University of Washington in Seattle and the Museum of Contemporary Art Detroit. Croquer believes museums like Brandeis' "must be more engaged with the fabric of their communities, to act as places for inclusive dialogue and valiant inquiry," according to a May press release from President Ron Liebowitz.
For its September exhibitions, the Rose Art Museum will inaugurate the fall semester with an even mixture of outside artists and treasures from the museum's own collection. "Body Talk" will display selections from the Rose's holdings to demonstrate surrealist artists' ideas about and understandings of the body, featuring works from André Masson, Max Weber and others. Joe Bradley, an artist who will be among those in the October opening, will also choose pieces from the museum's collection that he believes to be "masterworks and lesser-known gems" to be exhibited in the September opening under the title "Buckdancer's Choice."
Alongside pieces from the Rose's collection, artists Kevork Mourad and John Akomfrah will have works in the first installment of the museum's Fall 2017 exhibitions. Akomfrah, a Ghana-born British film artist, will feature his two-channel video "Auto Da Fé" (2016). The film chronicles instances of mass migrations incited by religious persecution over the past 400 years. Mourad's works also integrate a similar concern for persecution and tragedy, although his elaborate, dynamic paintings are centered in the context of his Syrian-Armenian heritage.
On Oct. 15, the Rose will introduce the second part of its Fall 2017 exhibitions with works from Tony Lewis and Joe Bradley. Lewis's site-specific mural will be in conversation with concepts of race, memory and language. What distinguishes the piece from others in this semester's exhibition, however, is that it will be created on-site in collaboration with Brandeis students, fostering a more tangible connection between artists and the museum's main attendees.
Joe Bradley, who also selected works from the Rose's collection to be displayed in the September opening, will have a notable exhibition alongside Tony Lewis's mural in October. With twenty-four pieces to be shown in total, Bradley's exhibition at the Rose will be the first ever large-scale museum exhibition of his work in North America. His drawings and paintings evoke a deep appreciation for modern art in all of its nuanced iterations while maintaining a minimalist, yet almost rough-edged aesthetic.
With a fall semester loaded with exciting new attractions at Brandeis's very own museum, there isn't an excuse not to walk over and take a look. "Body Talk" and "Buckdancer's Choice" will be on view from Sept. 8 to Jan. 28; the works of Kevork Mourad and John Akomfrah will be exhibited from Sept. 8 to Jan. 21; Joe Bradley's exhibition will run from Oct. 15 to Jan. 28; and Tony Lewis's mural will be on display from Oct.15 to June 10.