Professor Sabine von Mering (GRALL/ENVS/WGS) was one of 12 people arrested in Ayer, MA for blocking a freight train delivering coal to a New Hampshire power plant on Dec. 8. The charges against von Mering and the other protesters were dropped "based on the facts and circumstances," a spokeswoman for the Middlesex County District Attorney's Office wrote in an email, according to an article by The Lowell Sun.
"The judge and the district attorney agreed that it should be a civil infraction and not a criminal infraction because we hadn't done any harm or damage and we had already spent six hours in jail and five hours in court," von Mering told The Brandeis Hoot in an interview.
Von Mering and the other protesters were protesting as a part of a larger campaign by 350 Mass Action, "No Coal, No Gas," which has the ultimate goal of shutting down the Merrimack Generating Station and ending the use of fossil fuels in New Hampshire, according to the group's website. The station is the largest of the three coal-fired power plants left on the New England grid, according to an article by New Hampshire Public Radio (NHPR). The article said that within its sector, Merrimack contributed roughly one percent of the region's emissions from electric generation in 2018, releasing 722,000 tons of carbon.
"I was absolutely shocked to learn that we're still burning coal in New England and that there's not a shutdown date for the coal plant—they don't even have a plan to shut it down," von Mering told The Hoot. "Here in New England, we claim to be progressive and care about issues, but this is the opposite of leadership. To not have a shutdown date for a coal plant is medieval."
Von Mering said that the coal plant is "completely superfluous" and that the coal is no longer needed. She pointed to research done by Stanford University Professor Mark Jacobson that shows that Massachusetts can be 100 percent renewably powered.
"[The plant] is owned by investors from Connecticut who are collecting subsidies by ratepayers," said von Mering. "So, we're all paying for this coal plant that we don't need because we have enough electricity. It's a completely criminal situation. You can't negotiate with physics. The temperatures are rising and we have a short period to prevent climate chaos and we know exactly what we need to be doing. We're funding our own demise."
The president of Granite Shore Power, LLC, the station's parent company, Jim Andrews, said that the market will dictate when the station shuts down, according to the NPHR article. In an article for NH Business Review, Andrews said that the plant is "driving nearly $50 million into our broader economy."
Jacobson said, however, that "there are no technical or economic barriers, there are social and political barriers," according to an article by WCAI.
The Dec. 8 protest was not von Mering's first time being arrested. On Aug. 16, 2016, von Mering was also one of over 200 people who were arrested at a West Roxbury, protesting a pipeline that was being expanded through a residential area, according to von Mering. She said that it was one of the biggest acts of civil disobedience of its kind, especially because there was agreement among all politicians that it was a "bad idea." Von Mering said that she plans on continuing to protest and she is aware that she may be arrested again.
In fact, von Mering protested again in West Boylston just over a week later on Dec. 16, in Worcester on Dec. 28 and in Harvard on Jan. 3. But unlike the other protests, on Dec. 16, even after following safety protocols, the train did not stop when von Mering and the other protesters stood on the tracks, according to von Mering. Von Mering and the other protesters eventually jumped off of the tracks before the train reached any of them.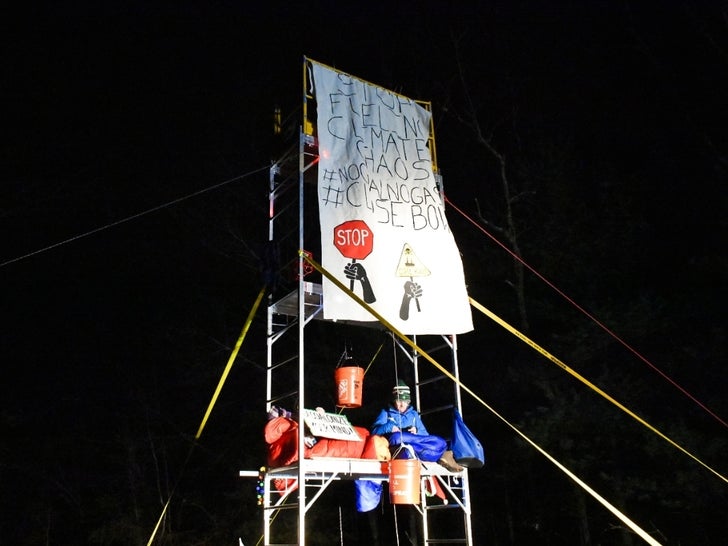 "[The protest organizers] did the same thing and flagged them and told them they must stop the train if there's protestors theoretically—we could've been chained to something," said von Mering to The Hoot. "The conductor said that he wasn't going to stop and he barrelled at us. We could not believe that they wouldn't stop—that the person driving that train would risk killing someone. We know that the freight train has dirt on their hands. Lives are being lost all the time because of coal mining and coal burning. In a way, maybe we shouldn't have been surprised. That was just infuriating and upsetting."
Von Mering said that after a Fox News article covered the Dec. 16 protest, she read many comments criticizing her and the other protesters.
"You realize how much hatred people have," said von Mering. "We're doing this for everyone. We're doing this out of love for the planet. We're doing this because we want to save lives on the planet Earth. Several people received threatening phone calls afterwards."
Von Mering said, however, that she has enjoyed seeing people come together to fight climate change. When she was arrested in 2016, she met a Brandeis alumnus while sitting in a police car, according to von Mering.
"It's really awesome to see people come out of the woodwork and I'm meeting fantastic people who are willing to spend hours and hours on this," said von Mering. "There needs to be a push from everyone [to stop the use of fossil fuels]. The University of California made a full commitment, we now see that the banks are waking up—it's happening. It's a question of how quickly everyone gets their acts together. Everyone is hoping to make an extra buck before jumping off that train."
Von Mering said that she still hopes to see a push at Brandeis for more climate action. She is one of the co-chairs for President Ron Liebowitz's Campus Sustainability Task Force that was announced on Dec. 2.