Last weekend, the Brandeis University track and field teams competed at Branwen Smith-King Invitational on Friday and Saturday at Tufts University. The women's team placed seventh overall, and the men's team placed 11th.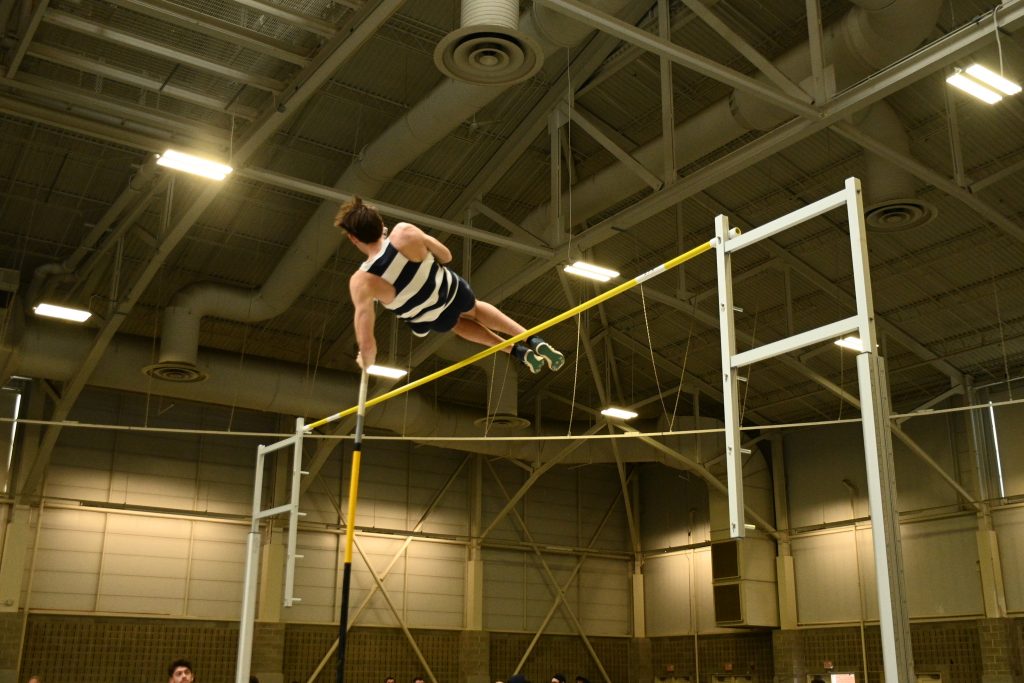 On the men's side, Jack Allan '20 broke his own school record in the heptathlon, which he set just a few weeks ago, winning with a score of 4782. During the meet, he won the 60-meter hurdles with a time of 8.62 seconds, tied first for the high jump with a height of 1.87 meters and the long jump with a distance of 6.65 meters. Allan also placed second for the pole vault and shot put with the score 3.70 meters and 11.71 meters, respectively. With this new record, Allan is ranked 10th overall in the country out of all Division III athletes and was named the University Athletic Association (UAA) Men's Field Athlete of the Week. Teammate Dion Morris-Evans '22 finished sixth overall with 4218 points. Morris-Evans had personal records (PR) in four out of the seven events.

On the field, Breylen Ammen '21 finished fifth in the pole vault with a height of 4.30 meters. Rookie Thomas Vandalovsky '23 had a PR in the shot put, throwing a distance of 13.71 meters, coming in seventh place.

On the track, Alec Rodgers '20 finished eighth in the 1000-meter run with a time of 2:42.02. Jacob Judd (GRAD) finished 11th in the 600-meter race with a time of 1:26.50. Teammate Jacob Grant '22 finished right behind him with a time of 1:27.01. Judd and Grant, along with Aaron Portman '22 and Jamie O'Neil '22 finished in sixth place in the 4×400 meter relay, with a time of 3:36.65. Aaron Baublis '21 finished 12th in the preliminary heat of the 60-meter hurdles, finishing with a time of 9.16, less than half a second away from qualifying for the finals.

On the women's side, All-American Devin Hiltunen '22 was the only double winner. In the 200-meter dash, she won by nine-hundredths of a second, running a time of 26.42 seconds.

Hiltunen was joined by Anna Touitou '22, Sonali Anderson '22 and rookie Sydney D'Amaddio '23, who together placed first in the 4×200 meter relay with a time of 1:48.07, a full second over the second-place squad from Connecticut College.

Hiltunen also finished fourth in the 60-meter dash with a time of 8.08 seconds, less than two-tenths of a second slower than the first place finisher, and a new PR. Her times improved throughout the day, running 8.14 seconds in the preliminary race, 8.11 seconds in the semifinals and 8.08 seconds in the finals.

Leinni Valdez '21 placed eighth in the 600-meter race with a time of 1:42.59. Rookie Victoria Morrongiello '23 finished in 12th place, less than a half a second after Valdez with a time of 1:43.06.

Anderson also scored individually on the 60-meter hurdles, placing second with a time of 9.48 seconds. She was just over one-tenth of a second away from the first place finisher. Anderson initially finished fourth in the preliminary race with a time of 9.75 seconds.

Andrea Bolduc '21 placed seventh in the mile run with a time of 5:14.11, with teammate Natalie Hattan '22 finishing in 14th with a time of 5:25.69.

In total, the men's team finished with 22 points, in 11th place. The women's team scored 37 points for seventh place.

The Judges return to action again this weekend at Tufts University with the Cupid Invitational.

Editor's Note: Victoria Morrongiello is the Deputy News Editor of The Hoot and is a member of the women's track and field team.