The Brandeis Academic Speech and Debate Society (BADASS) sponsored a 'DEIS Impact event on Saturday, Jan. 31, titled "AmeriCorps, Teach for America, City Year: Are They Actually Teaching America's Students?" The event featured a debate with BADASS members Jordan Roth '15, Sarah Margulies '15, Brad Burns '15 and Julia Karr '17. Their discussion focused on the issues and controversies surrounding Teach for America (TFA) and its impacts on both the graduates who participate in the program and the schools in which they work.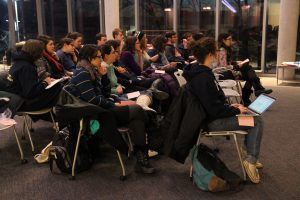 "We chose to talk about TFA because it's something that most Brandeis students are familiar with (in fact it's one of Brandeis' largest recruiters post-graduation) but not something that has really been questioned. As a school we care about social justice, but it's important to continually examine whether or not the programs we dream about actually cause the type of change that's intended," Margulies wrote in an email to The Brandeis Hoot.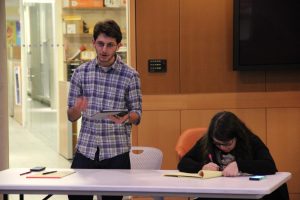 Roth began the debate by stating his side's position that TFA does not work as well as it claims to and does not directly solve many problems that exist in urban education. He stated that TFA teachers are simply using the program as a chance to add to their resumes and are not truly invested in education.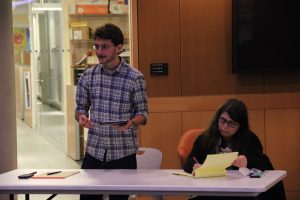 "Most of the people who join TFA are wealthy white kids who want to go on and do something else," Roth claimed. "They aren't likely to actually try to learn something about the community, or try to learn something about the systems of poverty that force people into these situations or try to change the way that it works. Instead they are simply going to remain outside of the system and, you know, be this white savior."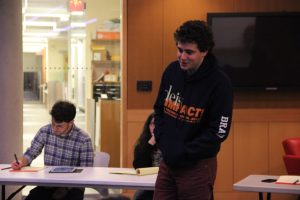 Roth argued that the issues TFA aims to address are not ones that can be solved simply through providing teachers. He asserted that education reform is bigger than what TFA can accomplish, saying, "It promotes the idea that an individual teacher has the ability to save everything rather than approaching the idea that society actually has to change. Instead, it should encourage TFA students to do something as a group to actually change."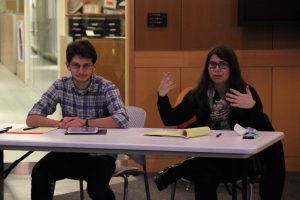 Roth's argument was followed by a counter argument by Burns. He focused on the power of principals to choose whether or not to hire TFA teachers, explaining, "It's not as if TFA gets to just force these teachers upon these urban school districts. TFA acts as a facilitator."
Burns insisted that TFA teachers prove valuable to the schools they teach at and are not hired simply based on monetary concerns. He cited several statistics in his argument in favor of TFA. "80 percent of principals who hire TFA teachers want to hire more TFA teachers. These are the people in charge of the hiring decisions who honestly are most likely to be biased toward traditional teachers."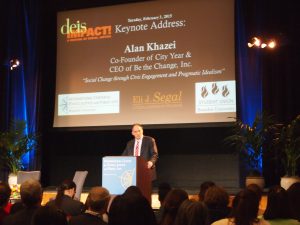 The event was part of 'DEIS Impact, a partnership between the International Center for Ethics, Justice and Public Life and the Student Union. Both Burns and Karr are members of the 'DEIS Impact Core Committee.
BADASS' debate was designed to engage students in the topic of education in underserved areas in connection to 'DEIS Impact's keynote speaker, Alan Khazei. Khazei is the founder of City Year and C.E.O. of Be The Change, Inc. City Year is a non-profit based in Boston, which, similar to TFA, works with public schools in areas of high need.
After the debaters finished their arguments, the floor was opened to the audience. They were encouraged to voice their opinions on the subject or ask any questions that remained unanswered.
Margulies hopes that debate will inspire students to think critically about programs like TFA, acknowledging that many students are unaware of the issues these programs might create.
"The debate was a great start to a broader conversation, but it's just that, a conversation," Margulies said. "We need more people to become engaged in the question so we can have an actual discourse about the subject."