Professor Jonathan Sarna '75 was named University professor, the highest ranking position a professor can receive. Sarna specializes in American Jewish History in the department of Near Eastern and Judaic Studies (NEJS).
He has been teaching students at Brandeis University since 1990 and has held chairs in the department three separate times. He is now the chair of the Hornstein Jewish Professional Leadership Program and the Academic Advisory and Editorial Board of the Jacob Rader Marcus Center of the American Jewish Archives in Cincinnati.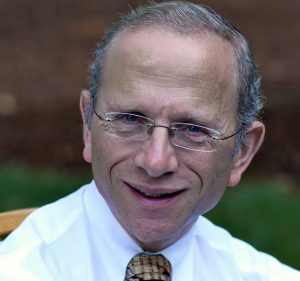 Sarna comes from a family of educators. His father, Nahum Sarna, was also a chair of NEJS at Brandeis University. "My father was a professor. I think that people always assumed that I would be a professor. When I went to summer camp, my nickname was 'Professor'," said Sarna. He leaned back, clasping his hands behind his head. The professor laughed, "I was apparently the only camper at Camp Ramah with a subscription to The New York Times."
Sarna developed an interest for his field at a young age. "I became interested in American Jewish History in high school. Perhaps because on the one hand, [my] family was deeply involved in Jewish Studies—my late father was chair of Jewish Studies at Brandeis at one time—and then at the same time I was the first member of the family born in America." Sarna felt that his passion for American Jewish History created a connection between his American and Jewish roots. "The idea of being able to spend a lifetime studying, reading, teaching, writing and so on seemed very appealing," said Sarna.
The professor was not disillusioned when entering his field. "There were actually very few positions in American Jewish History in the United States," he said. As a result, Sarna has put his studies to work through writings. He has significantly contributed to the body of work in his field. "I think I've reached and influenced a much broader audience; obviously one influences students, teaching at Brandeis. "I've done several books that have sold more than 10,000 copies," said Sarna.
Sarna is always working on new projects. "At the moment I'm working on a new edition of 'American Judaism,' which is my history. It's been 12 years since that appeared." Next year, he will be working on a project with the Israel Institute for Advanced Studies. The project will surround a 19th century Jewish woman poet.
The professor smiled proudly as he recalled that he had just completed a project: "An article dealing with immigration of Orthodox rabbis to America after America's gates were closed in 1924 … with a former student of mine [Professor Zev Eleff] I've written about the significance of that and how it happened and unraveled it all," said Sarna.
Sarna has expanded his field through more than just his body of work. "I'm very gratified that I've had over 30 Ph.D.s written either fully or partly under my direction, and today some of the leading figures in the field of American Jewish History are my students," said Sarna.
Sarna was a student himself at Brandeis in the '70s. "In 1975 Brandeis was still deeply involved in some of the causes that began in the late '60s; the Vietnam War was just ending … Civil Rights was still a big issue, the Soviet Jewry movement … this was a big center of Soviet Jewry activities," said Sarna. Sarna felt that students at Brandeis have a history of being passionate about social causes.
They also have a history of committing to coursework. Sarna said that this was part of the reason that he was enthusiastic about taking on a position at Brandeis. "It was clear to me that at Brandeis one would have the opportunity to teach a very broad group of students but also to help to shape a new generation of Jewish leaders. Brandeis has traditionally been a university that trains Jewish leaders. I was very happy to be able to do that," said Sarna.
His new role as university professor will allow him to expand on his body of research and his ability to share his ideas with students. "[There's] a lot of people you can influence with American Judaism … you know, you suddenly realize that can have a huge, huge impact," said Sarna.