Almost 200 people celebrated 50 years of mentoring youth and organizing blood drives through the umbrella organization the Waltham Group, on Oct. 8.
The weekend-long celebration included a gala, silent auction, timecapsule and multiple service projects. Alumni participated in service projects with Waltham Group programs they volunteered for during their time at Brandeis, such as returning to Prospect Hill community to see the new community center that opened in Fall 2014 thanks in part to Waltham Group volunteers.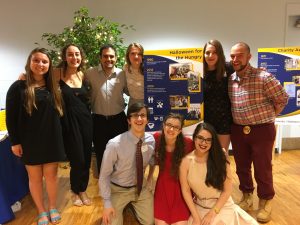 Gala attendees included students, alumni, campus partners, administrators and the mayor of Waltham. "It was great to see so many different people from so many different parts of the Brandeis community," said Brian Quigley, community service specialist at the Department of Community Service (DCS). The event featured speeches by the founders of the organization and University President Ron Liebowitz.
The two founders and their graduate school adviser at the time said that the Waltham Group started as a political activist organization, interested in civil rights and social inequality.
Krishna Narayanan '17, co-president of the Waltham Group, was surprised to hear that the Waltham Group facilitated protests and had a difficult relationship with the campus police in the 1970s, with the Civil Rights Movement and anti-Vietnam War protests going on. He said that today's group is "not as activist-oriented, but it still tackles the same issues of social inequality."
Lucas Malo, director of the DCS, said that activism remains central to the Waltham Group's goal. "Our campus is known for activism. I don't think people put Waltham Group in that activism bubble. I think they put us in a service bubble," Malo said. In 2009, the organization introduced a mandate called Educational Outreach. It requires each program to create at least one project or event to educate the community about the program's larger goal.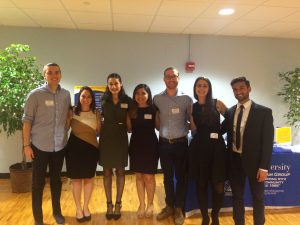 Liebowitz spoke about his time at Middlebury College and the importance of working collaboratively with community outreach organizations, such as the Waltham Group. Narayanan said it was his first time seeing the new president in person. The speech made Liebowitz seem "open and engaging and available," according to Narayanan.
Alumni contributed to the gala through attendance and donations. A silent auction during the gala raised at least $4,500. Alumni helped organize the auction. "We have an awesome committee of alumni who dedicated a lot of time to putting that together," said Quigley. Students and DCS staff also helped organize the spreadsheets and bidding for the auction.
Items at the auction included two VIP tickets to Late Night with Stephen Colbert, four park hopper Disney World passes, a Red Sox baseball autographed by Joe Kelly and the flag that flies above the Castle.
The group has not met its fundraising goal of $50,000. Malo estimated the total fundraising from donations and the auction to be at least $12,500. The Waltham Group will host more fundraising events to help reach the goal by the end of this school year.
The money raised throughout the year will go to enhancing programs, according to Malo. The Waltham Group received $59,950 in allocated funds for the 2016-17 school year. The organization is secured, meaning that it competes with 11 other clubs to receive a portion of secured funding every year. Allocations Board (A-Board) allocated $829,293 for secured clubs for the 2016-17 school year.
Allocated funding can only be used for particular purposes, laid out in A-Board policies. "If we want to buy a gift for a community partners to say thank you, for example, the Student Union can't fund that," Malo explained. He added that the Union helped them pay for one of six vans used to transport volunteers to partner sites. "That's $40,000 to lease another van every four years," Malo said.
Gala attendees placed items into a time capsule that will be opened in 25 years at the 75th anniversary. Items included signed t-shirts, letters and memorabilia from individual programs. "A lot of it is shared memories," Quigley said about the time capsule.
Members of DCS and the Waltham Group began working on the 50th anniversary celebration in May. "All throughout the summer the Department of Community Service was working really hard to put it all together," Narayanan said.
The Waltham Group started as a program for mentoring and tutoring youth from the Prospect Hill Community, a low-income housing area in Waltham. In 1966, the program ran with 30 students. The following year that number doubled to 74 students mentoring 90 youths.
The organization now has 20 programs that send volunteers to 40 partner locations. There are 75 coordinators overseeing 1,250 volunteers yearly. "For a program to be this sustainable and to be pure volunteerism where students are not getting credit or not getting paid or not getting work study is very rare," Malo said.
Over the last 50 years, approximately 20,000 people have volunteered with the organization, and today it is the largest club at Brandeis. Volunteers have played around 3,600 games of Scrabble with elderly and collected 100,000 cans through the Halloween for the Hungry door-to-door collection effort, according to a press release. They have helped solve 75,000 elementary student math programs and collected 12,400 pints of blood in their annual blood drive—the 2016 drive is next week.