The meme "Keep Calm and Dance On" was plastered on a piercing red backdrop adjacent to the ticket stand, a most fitting first sight at Adagio Dance Company's semester show. This wall decoration set a precedent before even entering Levin Ballroom on Nov. 17 that hinted at a flaming zeal for this art form, a passion which could not be ignored. The beauty of the occasion was laid in the striking stage lights, radiant costumes reflecting a rainbow of color and the overwhelming delight of the dancers who were given the opportunity to finally showcase their enthusiasm on stage.
This year sported various interesting concepts for dance routines, which proved rather unique as compared to previous years. Though lyrical dance was present throughout, as per usual, this year's show also incorporated sign language, a dance routine without music, and countless heart stopping stunts. In that way, Adagio Dance Company seemed to fuse the art of dance with cheerleading, and thus made every attempt to catch the audience's attention with unconventional acrobats. They certainly thrilled each and every time.
This semester's show, boasting 27 routines, including astonishing performances by Hooked On Tap, Brandeis Ballet Company, Stop Motion and Bentley's CRAZE, showcased the outstanding talents of Brandeis' student body. The largest student-run dance group at Brandeis presented completely original choreography, stemming from the passions of a plethora of dedicated dancers, including Lindsay Weiner '18, Hannah Suib '19 and Amanda Ehrmann '18, among others.
The event started off on a high note with Dance Ensemble's "Head vs. Heart," choreographed by Melina Gross '19. Performed to Two Steps from Hell's "Heart of Courage," the routine intended to show the internal conflict between head and heart. The choreography for this dance was amazingly symbolic, and the piece incorporated a degree of precision and synchrony that was noteworthy. The performers appeared to not just know the steps, which many could do, but to feel the music, and act as a vessel to convey a larger narrative.
UMass Lowell's dance team ProtoHype ignited the audience members' hearts as intense cheering and clapping endured throughout their performance. An instant audience favorite, the dance crew included more than 20 dancers and was of an urban dance style that was irresistibly charming. A recently formed group, ProtoHype showed no signs of unprofessionalism and was particularly impressive because of the length, scope and complexity of the dance routine. UMass Lowell set a new standard, with incredible dance formations and downright creative dance moves.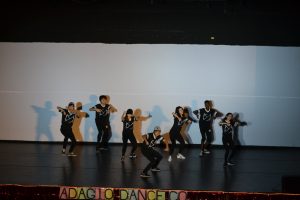 Another delightful number, "Still Breathing," was choreographed by Liv Molho '20 and was primarily composed of first-year talent. The song "Youth" by Daughter set the tone for this dance performance, as the choreography conveyed the "turmoil and peace each person experiences throughout their lives," according to the program. The group as a whole had magnificent chemistry and comfort in their own skin, which only added to the elegance of the performance.
Though it is nearly impossible to mention all of the out-of-this-world acts here, there were a few especially memorable performances that deserve mentioning. B'Yachad, Brandeis' Israeli dance troupe, performed a routine that was very enlightening in its use of traditional Israeli music, coupled with more modern steps. Brooke Granovsky '18 and Hannah Schuster '18, news editor for The Brandeis Hoot, choreographed the very sophisticated "Waltz of the Snowflakes," which is sneak preview of Brandeis Ballet Club's upcoming show "The Nutcracker." Brianna Silverman's '19 choreography for "Britney Mashup" was incredibly nostalgic of any 90s kid's childhood. Last but not least, a highlight of Adagio's show was the booming beat in Sia's "Cheap Thrills," which showcased fun, party-like dance moves that were positively captivating. The night could not have been composed of more diverse music, from Leona Lewis' "Whatever It Takes," to some of Britney Spears' most popular tunes, to Major Lazer and MOTi's "Boom."
As a whole, Adagio's semester show "Keep Calm and Dance On," was a tribute to Brandeis students' love and passion for the art of dance. As one of the most dynamic art forms, it is marvelous how dancing unifies us toward a common goal and outwardly displays the internal feelings of the dancer in such a public way. Adagio's semester show always manages to entice with its raw combination of cult classics, the grace of lyrical and its occasional hip-hop performances.