The Task Force on Free Expression held one of three open meetings on Sept. 27 to discuss a set of principles aimed at guiding free speech and expression on campus. The three-page document, available at the event and released through email, uses broad language to reaffirm Brandeis' commitment to free expression.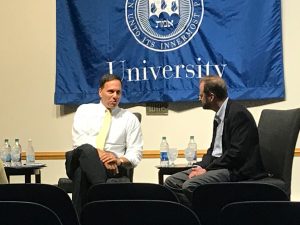 The statement is the first of its kind at Brandeis. The university has a mission statement and a diversity statement which were considered when developing the statement on free expression.
The Sept. 27 meeting was a chance for students, faculty and staff to give President Ron Liebowitz, Provost Lisa Lynch and economics professor George Hall feedback concerning the five principles. That feedback may or may not be incorporated future drafts of the principles.
The document does not outline policy changes or suggestions. The Task Force spent close to a year working on the document. According to those on stage on Wednesday, the set of principles are a work in progress. Hall, the only person on stage who was a part of the task force, explained that the document was "aspirational" and "purposely broad" in order to create "personal and community responsibility."
The guidelines have no power to enforce anything written within them. Policy is the next step, according to Liebowitz.
While the guidelines were being written and distributed to faculty members last fall, changes to Rights and Responsibilities were already in the works, Liebowitz confirmed when asked about a new R&R section added this year. Section 7.5 prohibits students from protesting in a manner that prevents an event from continuing as planned. Liebowitz reaffirmed this new section when asked how protestors would be able to exercise speech at an event. Protesting in the room where an event is taking place is acceptable, "so long as the speaker is not prevented from speaking."
Staff and students who gave feedback pointed out that the document does not contain a definition of hate speech. It also does address whether there is a difference between calling for violence and actually committing a violent act. When asked why these elements were not included, Hall responded that the task force could not come to a decision concerning the definition of hate speech and encouraged community input. He also emphasized that the aim of the document was not to "draw lines."
Often, members of the Brandeis community asked questions that were less focused on the principles and more focused on how policy stemming from those principles would affect their lives on campus. Lynch, Liebowitz and Hall were unresponsive when asked direct policy questions, reiterating that the purpose of the forum was to discuss the principles on the page, not later policy decisions. "We're here to get feedback on what these principles mean to you as they relate to policy," said Liebowitz.
One student asked how the campus would handle the cost of inviting a controversial speaker. Large scale protests against conservative speakers on college campuses have generated security costs that universities have had to shoulder. In some cases, universities have asked clubs inviting the controversial speaker to bear security costs. U.C. Berkeley, for example, spent $600,000 on security when conservative speaker Ben Shapiro spoke on Sept. 14. When they hosted Ann Coulter last April, they also spent $600,000, rather than turn away the conservative author.
Lynch responded that the administration would consider the speakers on a case by case basis. Monetary and emotional costs of having a particular speaker on campus would have to be taken into account. Hall and Liebowitz agreed.
Conservative author, filmmaker and speaker, Dinesh D'Souza, spoke in Schwartz Auditorium last April at an event sponsored by Young America's Foundation. Students attending the event were not disruptive. Attendees brought up the event at the task force open meeting as an example of upholding the values of free speech and expression put forth in the task force's principles.
The fifth principle of the new guidelines, titled "Distinguishing between Invited Speakers and University Honorees," received the most attention at the open forum. According to that section, allowing a club to invite a speaker to campus is not the same as the university endorsing that speaker. "[T]here are certain circumstances, especially the granting of honorary degrees, in which an invitation issued by the university does does constitute an endorsement of some major aspect of their life work."
Brandeis has had trouble with honorary degrees in the past. In 2014 it withdrew an honorary degree offer from Ayaan Hirsi Ali, a women's rights advocate and critic of Islam. Students and faculty spoke out against her opinions about Islam, including the idea that "violence is inherent in Islam." The administration faced pressure from a petition created by the Muslim Students Association that received 6,800 signatures from students, faculty and people across the country. The task force's principles underscore that such a petition would not be seen as an "attack on free speech."
Two members of the task force, Jamele Adams and Stephen Alkins, did not sign the list of principles.