I am a big believer in the power of words. They are what make us human even though they are not that important individually. What matters is how we shape and use them to show or hide our true selves as well as to communicate our thoughts. Words are both our greatest weakness and our greatest strength. The written word has enabled people to speak through time and space. A greater power, however, lies in spoken words.
I heard this power when I saw last Friday night's performance of "for colored girls who have considered suicide / when the rainbow is enuf." This show blew me away. I have never been so moved by artistic media. Nowadays, there is little room in our culture for serious entertainment, so when I come across a serious work, I really appreciate it.
Brandeis Ensemble Theatre and Brandeis Players co-produced the play, originally written by American playwright and poet Ntozake Shange. The show is a series of interconnected poems that portray the lives of seven black women, all of whom are nameless and express their identities only by the color of their clothes: yellow (Khadijah Sawyer '18), blue (Amanda Caroline de Oliveira Pereira '15 and Queen White '16), red (Oye Ehikhamhen '17 and Nyah Macklin '16), orange (Kesi Kmt '16), purple (LaQuasia Cherry '17), green (Jessica Hood '15) and brown (LaShawn Simmons '18). The Brandeis production deviated a little by having two actresses in red and two actresses in blue. There were also four guides (Racheal Odusanya '17, Stephanie Ramos '15, Ajai Scott '15 and Keara Vancol '17), dressed in black, who act in the background of the scenes, often in the forms of dancing or moving props.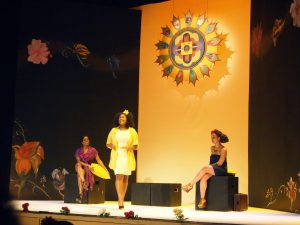 The cast was excellent. Each character was independent and unique, but the characters together formed a beautiful mosaic. Every poem that was acted out produced its own emotion. The show successfully tackles difficult topics, such as rape, racism, abandonment, domestic abuse, sexism, HIV/AIDS and abortion. As a society, we rarely talk about any of these subjects despite the fact that they are very real and very present. One thing I thought was extremely satisfying about this play was that things weren't sugarcoated; real and raw emotions of struggling women were relayed to the audience.
In one scene the women talk about all of the excuses that men make and the amount of times they have heard the words "I'm sorry." When I saw their expressions and heard the tones of their voices, I was brought back to my own experiences and those of women in my family. I was connected to the actresses in that moment. All of the cast members embodied this high-level acting.
One part of the show that really stuck with me was the poem about Sechita, the life of a woman living in the bayou who is melding with the spirit of her namesake, a goddess. The poem is accompanied by a beautifully expressive dance. I think that it takes a lot skill to not only pull off such a complex dance on stage, but also match it to the words of the actress speaking the poem.
The poem that will stay with me the most out of all is the penultimate one, which describes an abusive man who refuses to leave his ex-girlfriend and their two children alone. He continues to harass them despite a mandated court order. The women in red act out the entire scene, including a part where he is dangling the children out from a window in a threatening manner. When one of the women in red released her hands, I felt my heart fall into my stomach as though a father had actually dropped his two small children out a window and murdered them.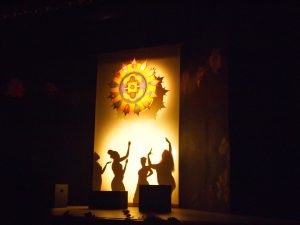 My favorite part of the show is when the woman in brown speaks about her love of Toussaint L'Ouverture, the leader of the Haitian Revolution and her experiences with reading about him and having him as her own friend. She reminded me of myself as a child sneaking off to read advanced books from the library and finding a friend in books where there was none elsewhere. I felt very strongly about this scene because the media often portrays women of color as less academically gifted and not as interested in intellectual pursuits. Here, we see a character of color who does not fit this damaging stereotype.
I think that what makes this show so special is that while the stories shown are not necessarily those of actual people, they are most definitely narratives that women of color can relate to and identify with, many of whom struggle with the issues put forth in this show. Director Ra Malika Imhotep '15 brought these topics out into the open with this wonderful show, which is an objective that I heartily support. The cast, production staff and crew did a fantastic job with their production of "for colored girls," and I can only hope for more productions of such import and caliber.