Members of the Brandeis community gathered for the third annual TEDx Brandeis University, an independently organized TED event. This year's theme for the event, "Past Perspectives, Future Minds," gave each of the five speakers: R Matthews '19, Nakul Srinivas '21, Ben Greene '21, Shaquan McDowell '18 and Abeer Pamuk MA '20 spoke about various influential moments or events in their lives that helped shape their outlook on life.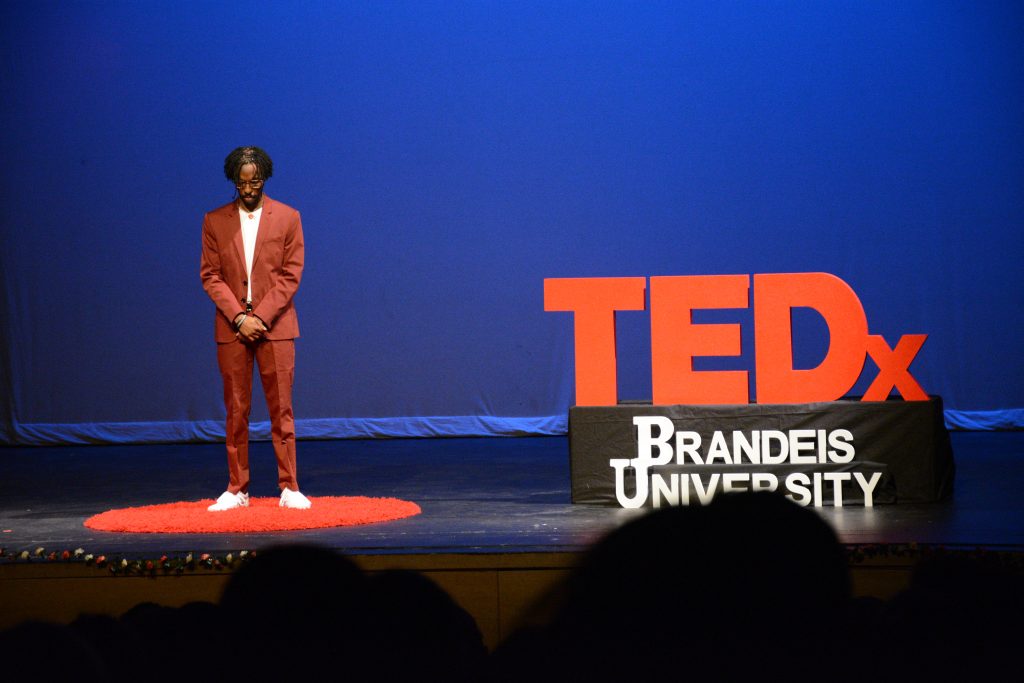 R Matthews: "Loc'd and Coded: The Politics of Dreadlocks"

Matthews' talk focused on his dreadlocks and the coded language behind the dreadlocks. He said at the beginning of his talk that he had been growing out his dreadlocks for almost two years and felt like the dreadlocks were a connection for him to his Jamaican heritage and his mother.

He went on to debunk common myths and misconceptions about dreadlocks. "It is what happens when natural hair is left to grow on its own," he explained. "It will grow how it wants. It is essentially an encouraged section of knots."

Matthews also spoke about a 2016 law that gave companies the right to refuse to hire an individual because of their dreadlocks. "My mother had to cut her own dreadlocks to ensure a job in the U.S.," he said.

As he entered his senior year and started applying for jobs, Matthews once again didn't know what to do about his hair. "Did I really want to work for a company that wasn't willing to accept my full self?" Matthews asked himself. He said that he found himself pulling his hair back so employers would focus on his face, not his hair.

"To all the people who judge me based on my hair, thank you," Matthews said. "You serve as my catalyst to my evaluation of self."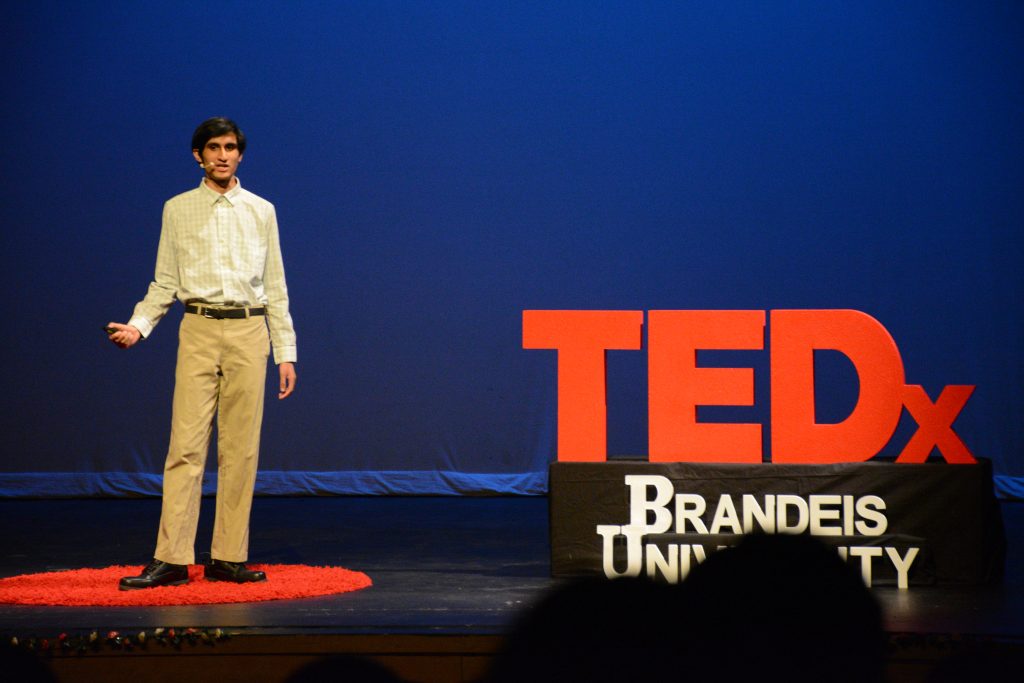 Nakul Srinivas: "What Hindu Stories can Teach us about Gender"

In fourth grade, Srinivas saw a same-sex couple for the first time. "Why does that girl have two moms?" he asked his parents.

Nakul related this experience to Hindu mythology, which has three main deities: Brahma the Creator, Shiva the Destroyer and Vishnu the Preserver. All of the gods are both male and female, according to Srinivas.

Srinivas highlighted how "gender is not only fluid but attractive." To Srinivias, Shakhandi, the main character in a famous Hindu epic, was as a superhero that he needed in his life. "But maybe it's the eternal stories of the past that can help direct the future."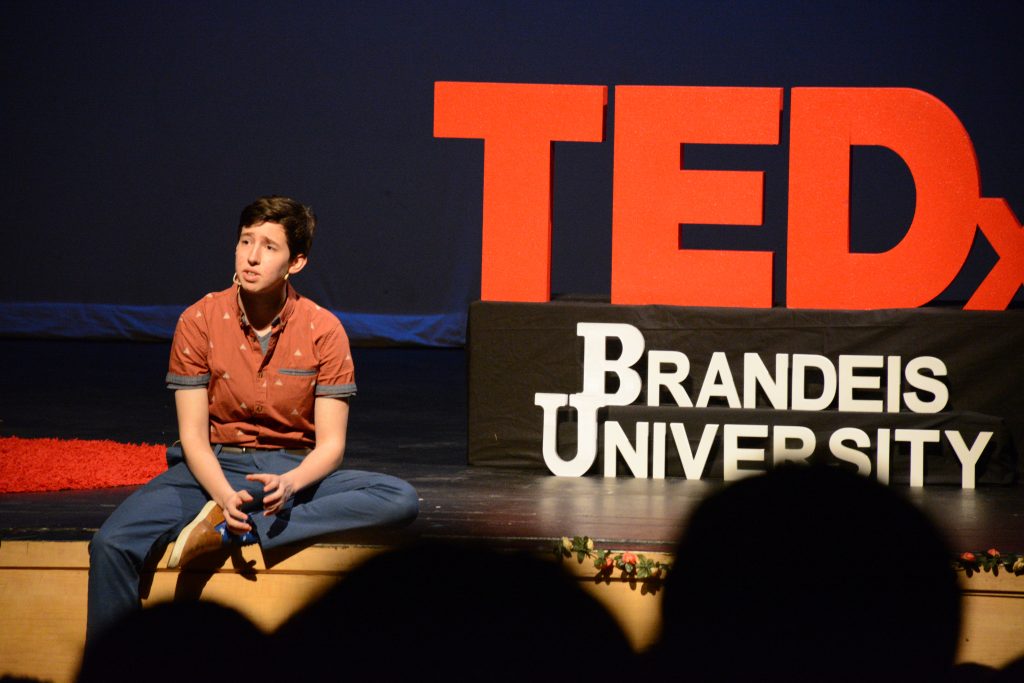 Ben Greene: "Where are you sitting?"

During Greene's junior year of high school, "I stopped being able to recognize the person that was looking back on me, looking in the mirror," he said.

After surviving a major car accident, Greene decided to come out to his family and friends. As one of two trans people at his school, Greene helped develop trans topics in the school curriculum and became the president of a secret underground LGBT group in the state of Connecticut.

Greene then told the story of his coming out and finding himself. During one of the lowest points of his life, Greene "couldn't see a reason to be alive," he said during his talk. After being locked in a pediatric emergency ward, Greene said a guy in a "cool leather jacket and street clothes looked at me and said, 'Hey, I heard what you said, and I want to let you know that as long as you stay true to yourself, everything will work out.'" He said that this man was a sign that helped show him the light.

Throughout his talk, Greene also spoke about ways to be a better ally for trans people: Don't stop learning; it's no one's place to identify someone except yourself; it's okay to admit you don't know something and to listen to trans people.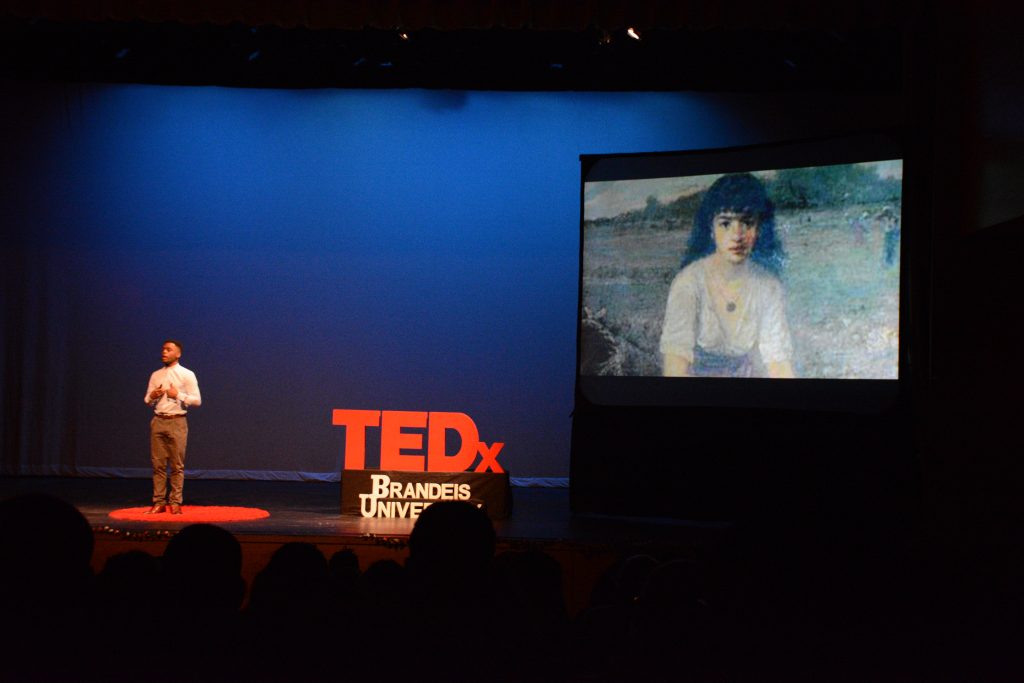 Shaquan McDowell: "An Arbitrary Racial Identity: The Evolution of Race in America"

McDowell talked about his interest in genealogy, guiding us through his ancestral past and what he discovered about American perspectives on race. He discovered that there was a change in what people perceived as "black" after the Civil War.

He focused on one of his ancestors, his fifth great-grandmother Elizabeth Scott, who lived through the Civil War and was labeled as both white and black throughout the course of her life due to this change in definition in the 1860s. Scott's experience of living most of her life perceived as white, and then labeled as black by outside forces, shows the triviality of race itself, said McDowell.

"The way a person looks and who they actually are can often be misleading," McDowell said during his talk. "Race is an idea that is encapsulated in society."

"The use of race as a prejudice apparatus is just stupid," because race is ever-changing, he said. "But it's still a methodology of prejudice we still utilize," he continued. "We believe that we can look at a person and see how they will vote and what social movements they will identify with."

McDowell believes everyone should be more inquisitive and create dialogues about race, rather than making assumptions based on their outward appearances.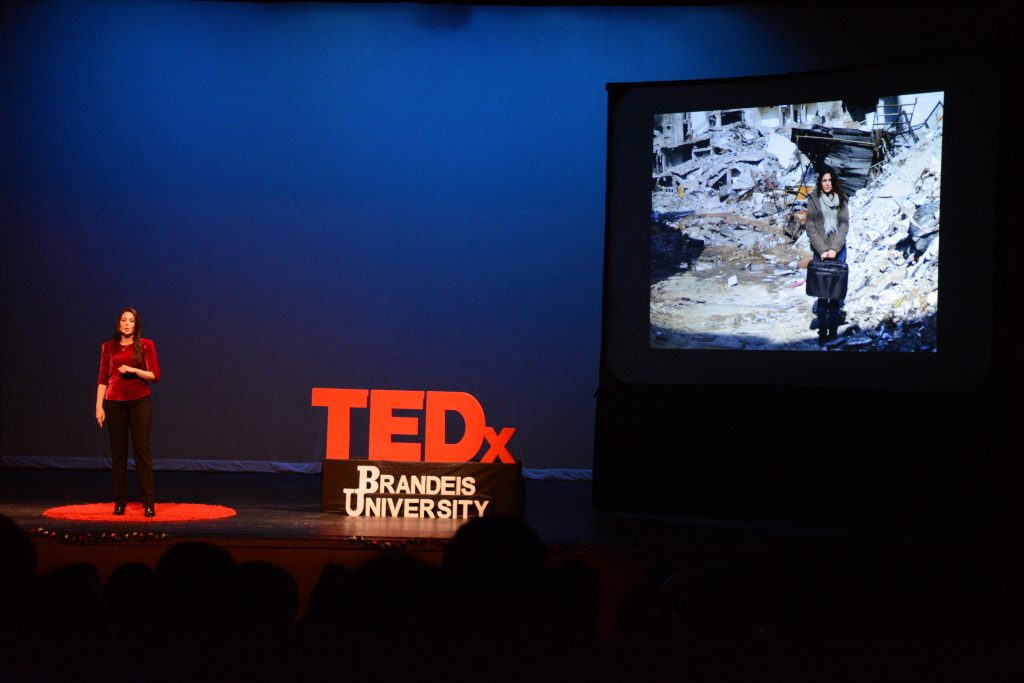 Abeer Pamuk: "How I Won The Syrian War"

Pamuk highlighted on the power of dreaming and demonstrated how dreams can be made into reality.

Pamuk spoke about her personal connection to the Syrian War: she lived through it. On the dusk of a summer day in 2012, a bomb destroyed Pamuk's house. During her last few minutes at home after being forced out by her mother, she stood next to her brother's bed while he was sleeping. "I wanted to watch the silhouette of his chest moving up and down," she said. "It gave me an extended image of him alive before I left."

On the first day of midterms in 2013 while Pamuk was in Lebanon, the University of Aleppo, where she studied, was bombed. Even though her family survived, Pamuk found out that four of her friends had died. After learning this news Pamuk was determined to make it back home.

Her next dream was to start a new chapter of her life; she wanted to move to the brightest city in the world: New York City.

Like home in Syria, Pamuk was mentored by another single mother in Brooklyn. It was this second mother that helped Pamuk accomplish all her firsts in New York. "My dreams were knitted by two single mothers who sit an ocean apart. They're knitted by the people of New York City who mentored me and made sure I stayed here," she said. "I stand here today to prove that single mothers are amazing, and girls can fly."

All of the talks are available on TEDx Brandeis' Facebook and YouTube pages.